Punisher
Group:
Frigate
Category:
Ship
Market Group:
Ships
-
Frigates
-
Amarr
View Price Report
View Regional Orders
Description:
The Amarr Imperial Navy has been upgrading many of its ships in recent years and adding new ones. The Punisher is one of the most recent ones and considered by many to be the best Amarr frigate in existence. As witnessed by its heavy armaments, the Punisher is mainly intended for large-scale military operations, acting in coordination with larger military vessels, but it is more than powerful enough for solo operations.

Special Ability: 10% bonus to Small Energy Turret capacitor use and 5% bonus to armor resistances per level.
Built Using:
Punisher Blueprint
Radius: 40 m
Mass: 1,425,000 kg
Volume: 28,600 m3
Portion: 1
Race: Amarr
Base Price: 0 ISK
Published: 1
Median Sellers Price: 239,551.00 ISK
Median Buyers Price: 210,000.00 ISK
Skill Requirements:
Fitting
| | | |
| --- | --- | --- |
| | High Slots | 4 |
| | Mid Slots | 2 |
| | Low Slots | 4 |
| | Turret Slots | 3 |
| | CPU Output | 115 |
| | Power Output | 45 |
Structure
| | | |
| --- | --- | --- |
| | HP | 391 |
| | EM Damage Resistance | 0% |
| | Explosive Damage Resistance | 0% |
| | Kinetic Damage Resistance | 0% |
| | Thermal Damage Resistance | 0% |
| | Drone Capacity | 0 m3 |
| | Cargo Capacity | 135 m3 |
Armor
| | | |
| --- | --- | --- |
| | Armor | 469 |
| | EM Damage Resistance | 50% |
| | Explosive Damage Resistance | 20% |
| | Kinetic Damage Resistance | 25% |
| | Thermal Damage Resistance | 35% |
Shield
| | | |
| --- | --- | --- |
| | Shields | 391 |
| | Shield Recharge Time | 10 minutes, 25 seconds |
| | EM Damage Resistance | 0% |
| | Explosive Damage Resistance | 50% |
| | Kinetic Damage Resistance | 40% |
| | Thermal Damage Resistance | 20% |
Capacitor
| | | |
| --- | --- | --- |
| | Capacitor Capacity | 425 |
| | Recharge Rate | 4 minutes, 41 seconds |
Targeting
| | | |
| --- | --- | --- |
| | Maximum Targetting Range | 25km |
| | Maximum Locked Tagets | 5 |
| | Radar Strength | 9 |
| | Signature Radius | 38m |
| | Scan Resolution | 610mm |
| | Scan Speed | 2000ms |
Propulsion
| | | |
| --- | --- | --- |
| | Ion Propulsion Strength | 0 |
| | Maximum Velocity | 250m/s |
| | Agility | 3.1 |
| | Maximum Warp Speed | 6 AU/s |
Manufacturing Info
Duplicating
Invention
Misc Attributes
| | | |
| --- | --- | --- |
| | Armor Uniformity | 0.75 |
| | Base Warp Speed | 1 |
| | Drone Bandwidth | 0 |
| | Gfx Booster ID | 394 |
| | Heat Attenuation Hi | 0.63 |
| | Heat Attenuation Low | 0.63 |
| | Heat Attenuation Med | 0.25 |
| | Heat Capacity Hi | 100 |
| | Heat Capacity Low | 100 |
| | Heat Capacity Med | 100 |
| | Heat Dissipation Rate Hi | 0.01 |
| | Heat Dissipation Rate Low | 0.01 |
| | Heat Dissipation Rate Med | 0.01 |
| | Heat Generation Multiplier | 1 |
| | Main Color | 16777215 |
| | Mass Factor | |
| | Max Directional Velocity | 3000 |
| | Max Passengers | 12 |
| | Meta Level | |
| | Min Target Vel Dmg Multiplier | 0.05 |
| | Propulsion Graphic ID | 394 |
| | Shield Uniformity | 0.75 |
| | Ship Armor EMResistance AF 1 | |
| | Ship Armor EXResistance AF 1 | |
| | Ship Armor KNResistance AF 1 | |
| | Ship Armor THResistance AF 1 | |
| | Ship Bonus 2 AF | -10 |
| | Ship Bonus AF | -5 |
| | Ship Energy TCap Need Bonus AF | |
| | Ship Scan Resistance | 0 |
| | Structure Uniformity | 0.75 |
| | Tech Level | 1 |
| | Uniformity | 1 |
| | Upgrade Capacity | 400 |
| | Warp Capacitor Need | 1.67e-06 |
Ship Design Schematic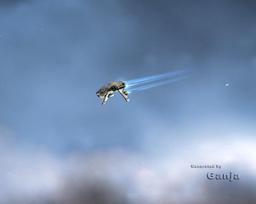 Image courtesy of: Ganja